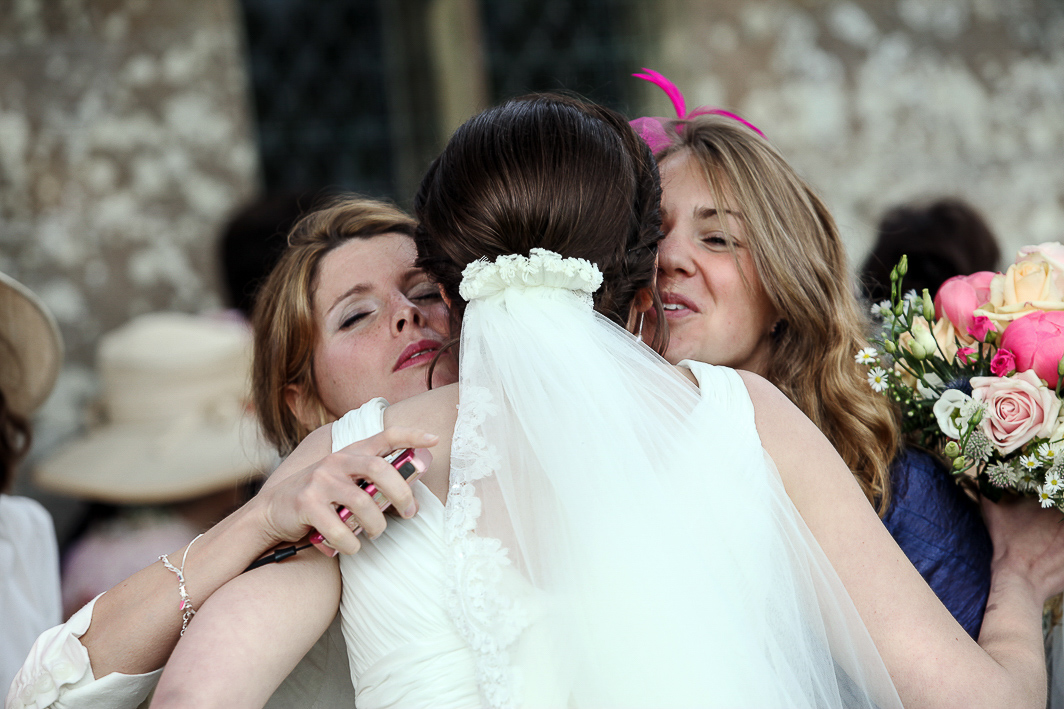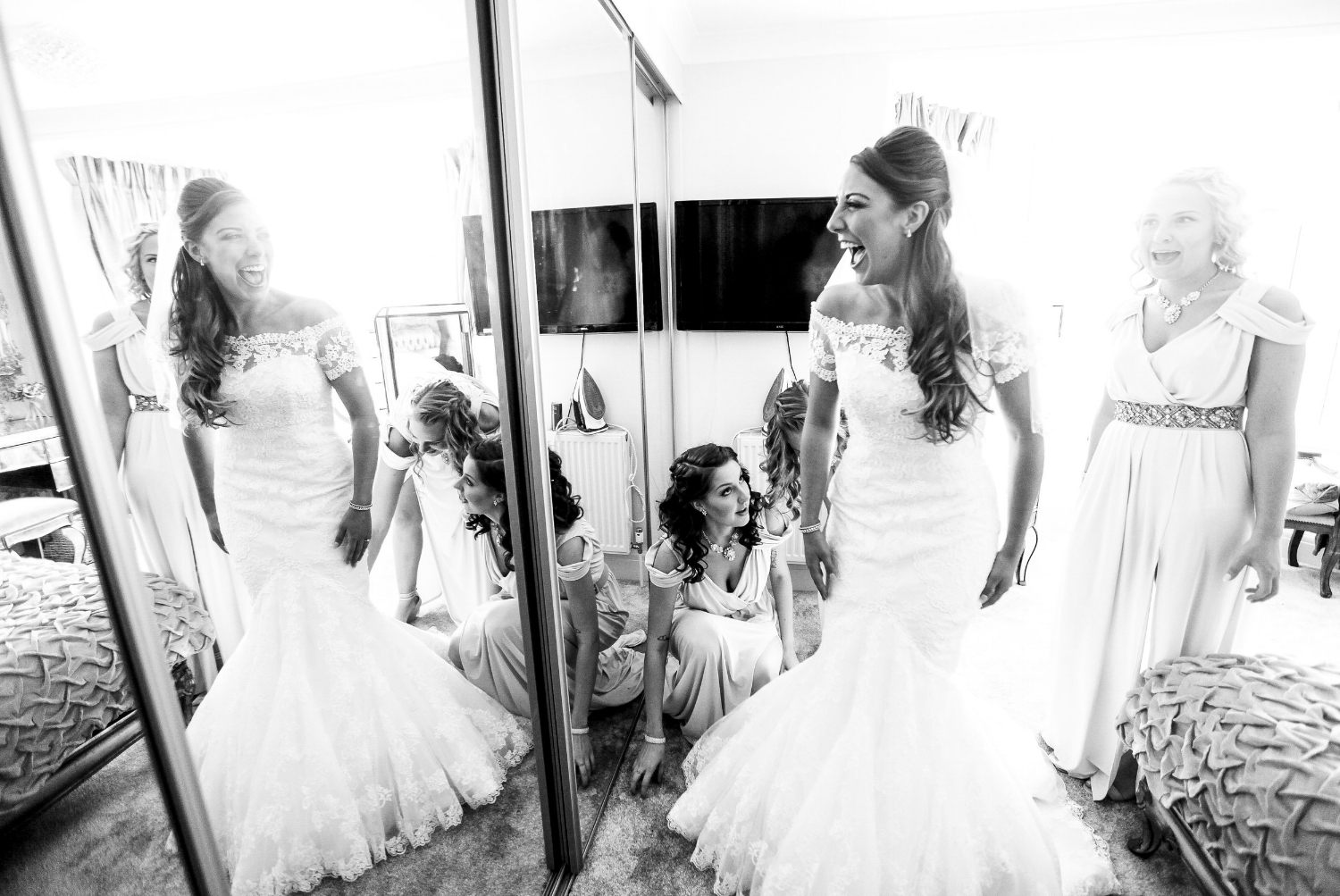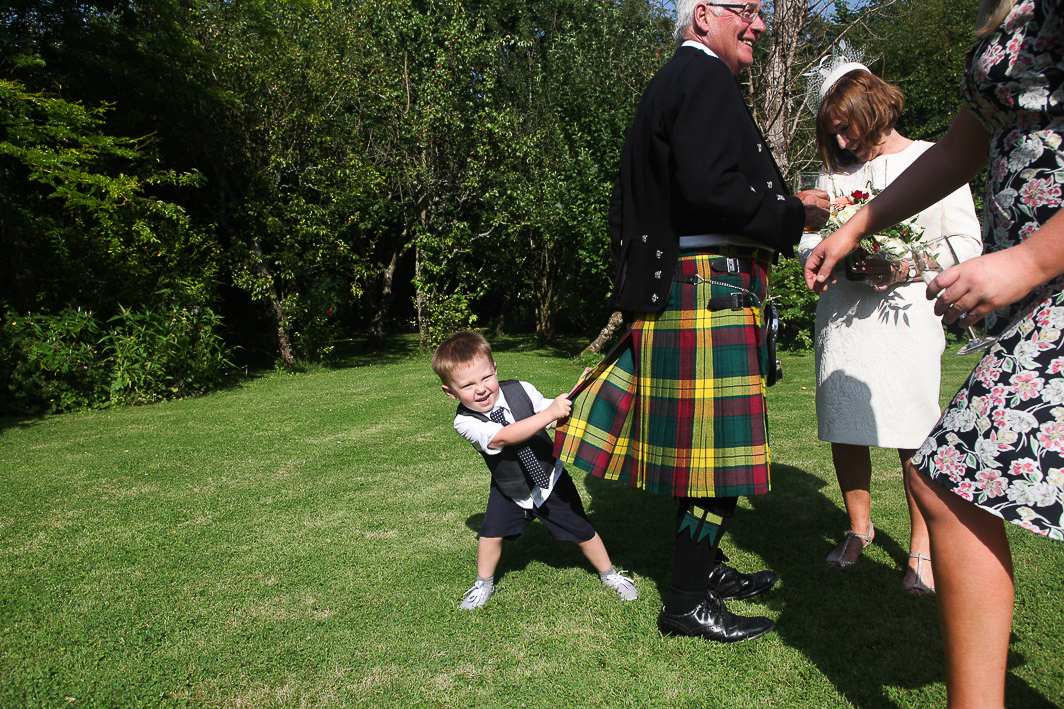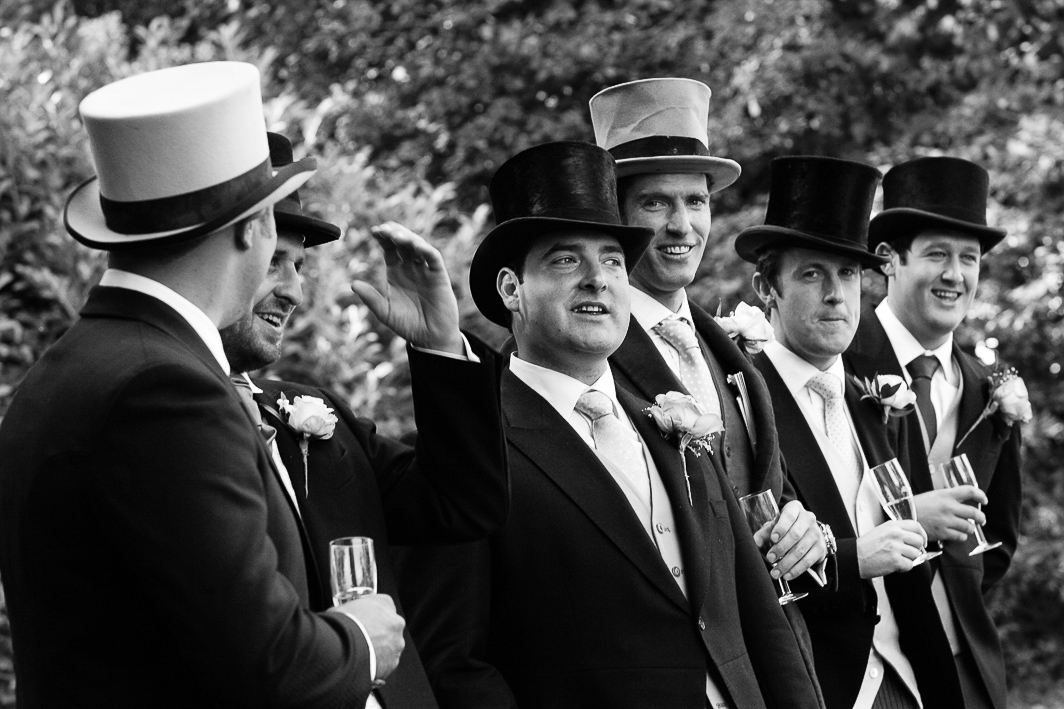 My Photography for you
There's nothing quite like a clergyman excelling on a dance floor. Duties having been performed, this lovely man was photographed in mid whirl with the mother of the bride at a fantastic evening party held in a Salisbury riverside hotel in Salisbury. I hope the picture shows some of the benefits of my approach to documentary wedding photographer. I'll always try and use available light so as not to disturb the scene, and I interact with guests in such a way as I hope to be accepted, so I can get as close as I need to the action whilst it still carries on around me. And it's all about gently observing, and anticipating, and gently moving about, so as to be in the right place to get a satisfying picture that adds to the long narrative of your wedding day.
I think that one of the ways in which we can all connect with weddings and feel part of them is that they're wonderfully familiar. We know that the day will be structured by a series of events. For me these 'acts' are picture stories in their own right - like preparation and getting ready, the ceremony, the speeches, and then the party and dancing. The fun of documentary wedding photography is not just recording moments from these set times of day, but finding pictures from the wealth of interactions in between. There can also be big events that I couldn't have predicted and have left me thinking they might be added to all wedding day planning. These surprises come in all forms, and I love them. A good example was the seriously good rounders that emerged after the wedding breakfast at Mima and Mike's Larmer Tree Garden wedding in Dorset. Hats and jackets were flung to one side as family and friends battled it out into dusk at which point fittingly, team bride were champions and Mima was carried shoulder high from the field back to drinks and dancing just as proper night fell. I was so pleased to be there joining this extraordinary group. Pictures from Mike and Mima's wedding including a longer extract of the rounders story can be seen in here. I think at these times my photojournalism past comes to the fore. Experience has taught me that if I'm gracious and don't get in the way, and have confidence in what I'm doing, the 'players' get on with their 'play'. And everyone knows I'm there for the couple to help the day be properly remembered.
One of the many pleasures of people are their expressions, and none more so than those on children. Unimpaired by the supposed expected behaviour of an occassion, they can't help but be themselves. During a wedding ceremony I'm always really sensitive about how much I move around, and I'm anyway very likely to be totally in the hands of whoever's presiding. But having restricted movement options can be a good thing that helps me concentrate on the little moments...and small faces. During Tracey and Chris's marriage ceremony in the grand historic chamber that is Winchester College Chapel, someone had marvellously sat these children at the front giving them a mischievously close view of the proceedings. They were unmissable, and as you can see, revelled in their central spot close to the action.
Although I love to carefully compose pictures, sometimes a scene just needs to be captured quickly, as seen and without preparation, it's beauty being in it's existence. I think a strength of documentary wedding photography is it's belief that reality isn't perfect, and it's all the more interesting for that. I might have wanted to make a more artful composition of the two older generation guests playing in the Photo Booth, but there's something appealing in the curtain being pulled aside by a bridesmaid wanting to see for herself what they were up to. As you might expect, a slightly younger cohort then made full use of costumes and booth. A more organised picture might have tried to include the booth itself, but thankfully reality doesn't always bend to these imagined rules, and the joyful mayhem was best caught as costumes were swapped in preparation for booth entry.
I love finding pictures of a couple that show them as a team sharing a private moment together on their wedding day. Rosalinde and Andrew looked so composed and in control together waiting to be introduced by their best man, (who by the way gave one of the funniest speeches I've ever heard and received a deserved standing ovation for his trouble). I think this picture said more about them on their day than many others I took. However much I enjoy the fun and reactions during wedding speeches - and I particularly like it when a couple break with tradition and both speak - the moments leading up to the speeches can be even better.
Years of photojournalism and working for newspapers have taught me to keep gently watching, to be ready to raise a camera, and to anticipate when 'something' might be coming together to make a memorable picture. That might be any mix of colour, light, human interactions or shapes - something in a picture that draws you in and makes you want to know what's happening. Kay and Clayton were married by Kay's father, a local vicar, and perhaps these pictures from their day show the relaxed behaviour of a fellow vicar's child who like me had spent a childhood playing around churches, but also something of the Vicarage atmosphere that Kay was used to.
As a press photographer I often had to position myself so that people couldn't avoid walking into my lenses. The papers want clear face pictures and I spent many hours (days..weeks!) waiting around for someone to appear, and then taking a ludicrous number of 'frames' in the twenty or so seconds I had them in front of me, generally as I walked backwards trying not to fall over...and think goodness those days have passed. As a documentary wedding photographer those 'skills' are now rarely used, and I avoid being in any prominent place in front of a couple or guests preferring to observe and find pictures from around the scene and not in front of it. But anticipation is still everything, and, sensing something might happen, I did again find myself trotting along photographing 'backwards' ahead of the wonderful Debbie and Tony (below) as they escaped their guests for the first time as a married couple after the confetti had been thrown and headed around the front of the beautiful Hill Place in Hampshire, Tony breaking into song as they gathered pace.
I've concentrated more on the pictures I find from observation as that is the type of real documentary wedding photography that I think means something in the future. To me it's fairly obvious that couples want to look back at their wedding photos and have memories of what happened on their wedding day, and not have a set of pictures that just show what the photographer set up? They really should not dictate the narrative of wedding pictures and memories. But however reserved they may be, most couples want some portraits and these are easily done, take about twenty minutes or so, and are usually fitted in either before the wedding breakfast, or later on when the light, or weather might be better. And even these require no posing. Normally asking a couple to stand in a particular place together is sufficient guidance for me to get eye catching portraits from their normal interaction. I've photographed a number of weddings at New Place in Hampshire, and whatever the weather, as with all venues given the right ability to adapt and imagine pictures, it's house and gardens provide scenes for portraits. New Place was also the scene of the only snowy wedding I've had the fun of photographing, one which only narrowly went ahead after heavy snowfall the night before and countless phonically to guests to check their journeys were safe. Anna and Richard (below) were married at a local church and used New Place for their lovely summer reception. Portraits with them in the garden were a pleasure.
Every wedding and reception venue has it's charms and possibilities. From cathedral to registry office, wooded glade to social club, it doesn't matter where a couple celebrate with their guests. as weddings are personal and about people, and that's what makes them fascinating, and ever new and surprising to photograph. Whatever the settings, throughout the day I think it's important to take those wider pictures that show the assembled company and atmosphere in whatever surroundings the couple have chosen for that part of their day.
There are stories everywhere on wedding days, and they can all act together within a long picture story of the day. The emotions felt by parents of bride or groom are usually there to see, but sometimes these play out in wonderfully public ways. On a trip to Mhairi and Neal's beautiful wedding in Edinburgh, where they were married in the historic Lothian Chambers on The Royal Mile, Mhairi's mum openly wore her pride. During the exchange of vows I spotted the force of Mhairi's parents' support for their daughter, and it was less tricky to catch her mum's embrace the moment the ceremony concluded - lovely people, and I felt grateful to be there.
I try to take new pictures at each wedding and I work hard at reacting to what's around me and finding new ways to tell the story of that particular day. As a documentary photographer, the last thing I'd want to be suspected of is formulaic picture taking - every wedding would end up looking the same, and very importantly, that wouldn't be in the slightest bit real. The picture below is an example of straying from many photographic conventions. I love the blur of colour and movement of the young bridesmaids as they arranged themselves to accompany the bride. Not all pictures have to be pin sharp in order to convey the feeling of a moment, and I like the fact this particular photo breaks some rules but I think still works. I'm not dogmatic about pictures and trying new things keeps me fresh.
And although my documentary wedding photography depends on embedding myself within the day without sticking out, I sometimes can't resist joining a scene. You can spy me below, and maybe you're able to spot a small smile on my face as I realise the picture has come together, Mike and Mima sharing the view, guests occupying the right window pains, and a small place for me in the bottom left corner.
Do contact me if you think I might be the right photographer for your wedding day. You could use the contact form below, or just ring or text - any way you choose I'll provide you with all the information I can. If you're in reach, to help your decision we can meet and chat - or do a digital face to face to test out whether you might want me to record your wedding day.